Long Tail Pro vs KWFinder – Choose Your Tool Wisely

There are many keyword research tools on the market.  Two of the most common reasonably-priced ones are Long Tail Pro and KWFinder.
Both Long Tail Pro and KWFinder are very capable tools for the average content writer.  They both return plenty of usable results and are both affordable for the average blogger.  However, I have to give Long Tail Pro the win here as it is a bit less expensive and provides competitor analysis functionality in addition to all that KWFinder does.
These tools specialize in finding long tail keywords. If your site doesn't have much authority yet, these long tail keywords are the key (forgive the pun) to finding traffic you can rank for and get the ball rolling.
Read along and I'll give you where each of these tools excels and give you an honest comparison of these tools.
What is Long Tail Pro?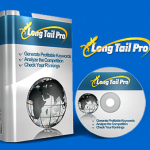 Long Tail Pro is a keyword tool originally written in 2011 and it's been getting better since.  It is a cloud-based tool that puts the power of any device that can access the internet.
The primary goal behind Long Tail Pro (or LTP it's called for short) is to help you find long tail keywords so you can put together content for low competition keywords and it brainstorms relevant keywords quite well.  You just give it up to 5 seed keywords and it will search out and find all the variations.  Then, it will get you a keyword difficulty score.
What is KWFinder?

KWFinder  is a keyword research tool by Mangools and first released in 2014.
KWFinder is also a tool that specializes in helping you find those sweet long tail keywords.  Just like LTP, you search and you get results that give you Moz scores like DA and PA as well as number of incoming links and more.
How are Long Tail Pro and KWFinder Similar?
In many ways, these tools aim to provide the same service.  They are tools to help you find the best long tail keywords to help your site grow.
Put in keywords to search out a list of related keywords and their difficulty
Filter the keyword results by search traffic volume or keyword difficulty
Import and export keywords
Organize keyword lists to keep them separate (though you'll see in the next section they do it very differently).
Get keyword difficulty to help gauge how attainable getting page 1 is for a given keywords.
SERP analysis on keywords
The list above is the basic list of keyword research tool core function that nearly every tools from LTP to KWFinder to Ahrefs to SEMRush will have.  Let's look now how they are different.
How are Long Tail Pro and KWFinder Different?
Competitor Research
Long Tail Pro has an entire section just on competitor research.  There are actually two ways you can research competitors to try to get an edge.
In the Keyword Research section, you can plug in a competitor's URL where you would normally put in seed keywords.  This will find the keywords related to that content to give you a starting point for you similar content.
You can also go into the SERP Analysis section and plug in a competitor's URL to get a full analysis
Being able to do competitor research is a key piece of keyword research.
Projects / Lists
In Long Tail Pro, you can create a new project and maintain a separate one for each site you are working on.  It's very handy when you add in the site's domain so your keyword results have a green or yellow on it based on how capable your own site is of ranking.
In KWFinder you can also put lists of keywords separately into different buckets but it's more the keywords themselves and not any associated data.  Still plenty useful but LTP gets the edge here because you can associate the domain with it to make filtering keywords easier.
How Much Do These Tools Cost?
Long Tail Pro starts out at $25 per month with the Long Tail Pro Starter plan.  It allows up to 800 searches per 24 hours and tracking up to 30 keywords in the rank tracker.
KWFinder starts out at $29.90 per month with the Mangools Basic plan.  It allows up to 100 searches per 24 hours and tracking up to 200 keywords in the rank tracker.
The KWFinder's Mangools Agency plan has 1,200 searches per month for $79.90 per month.  When compared to the 800 searches for the lowest Long Tail Pro plan, KWFinder is 3x more expensive.
LTP allows up to 2,500 searches per 24 hours with it's $45 per month plan if you really need a lot of searches but want to save money.
Long Tail Pro vs KWFinder – Which is Better?
Both of these tools are very capable and will give you comparable results for the same times of searches.
Only Long Tail Pro has competitor analysis and to be honest you really want this.  It makes it far easier to see more info about sites you are trying to outrank and it also shows you their keywords and volumes and such.  Pretty much a necessity.
For the money, you get much more searching volume with Long Tail Pro and it provides roughly the same quality of results as KWFinder.  Long Tail Pro is about 1/3 the cost of KWFinder so if money is an issue (and when isn't it really…who purposely overspends) then Long Tail Pro is likely the right product for you.