Long Tail Pro Review [2020] – Is the New LTP Cloud better?
Keyword research is a the first step to creating effective SEO.  If you want to succeed with a niche site, you need to have an effective keyword research tool that helps you find those profitable keywords that are a hallmark of a prosperous website.
Long Tail Pro is an industry-leading keyword research tool that specializes in finding niche, long tail keywords.  These niche keywords are the key to getting visitors to newer sites as they are pockets of opportunity in an otherwise dominated keyword market.
Once you find those keywords, then you write content around that topic and know very well that you are writing content that has a great chance of ranking on Google.
In this Long Tail Pro review, I am going to show you the tools the pros use, and I'm going to teach you the right way to do keyword research.  We are going to use the latest Long Tail Pro cloud version which is what you'll use if you sign up using my link for the 7-day trial.
By the end of this review, you'll know exactly how to find the keywords that are easy to rank and full of traffic.
Table of Contents
Long Tail Pro Review – A Quick Overview
| | |
| --- | --- |
| Creator | Spencer Haws originally |
| Product | Long Tail Pro |
| Launch Date | 2011 |
| Price | $25-67 per month |
| Special Bonuses? | YES |
| Free Trial | Almost. It has a 7-day trial for $1. |
| Home Page | https://LongTailPro.com |
| Recommended | Absolutely yes |
What is Long Tail Pro?
Long Tail Pro is without a doubt the best deal in keyword research tools.  There are a few other competitors like Ahrefs and SEMRush but Long Tail Pro is far more affordable and does an amazing job of helping you to brainstorm keywords to write your new content.
It is important to note that Long Tail Pro is now cloud based and you use it by logging into the website.  We're going to do real keyword research today (February 2020) using the same version you will get when you purchase the software so you know this is a recent review that is pertintent.
With this keyword research tool, you can easily research keywords and find those low competition gems which are the gold long tail keywords.  It is designed to help website owners who are aiming for organic search traffic.  If you own a niche site, this is absolutely necessary to succeed.
Like I said above, proper keyword research is a core piece of  Search Engine Optimization (SEO).  What you can do by hand in hours takes Long Tail Pro seconds and that is exactly what a tool should do .. free up your time to work on other parts of your site.
Without further ado, let's jump right in and see Long Tail Pro keyword research in action so you can see how to use this tool to pump up those traffic numbers.
Main Interface
Let's jump right into it and see Long Tail Pro's interface.  The current version of Long Tail Pro is now a cloud-based interface used by more than 80,000 clients.  You just log into their website and use it there.  What's cool is since it's web-based you can use it on ANY device.
You can click any of the images in this tutorial for a larger version so you get a good full view of the interface.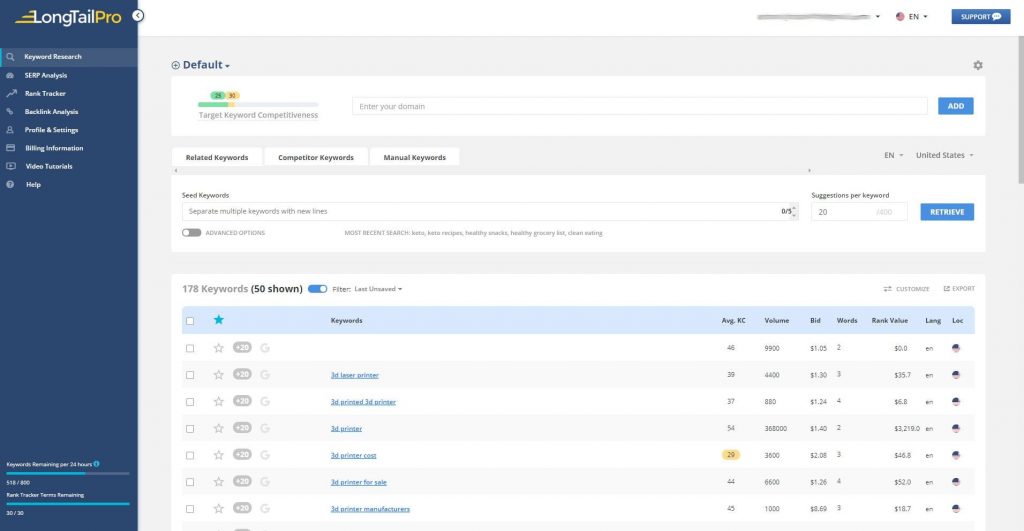 You can see I've done a bit of keyword searching using the software.  I really like that this software is so streamlined that it takes little work to find what you are looking for.
Examples – Keyword Research
What better way to get an idea of Long Tail Pro and if it can meet your needs than to see some real results and then do a real-life search to show what you can expect from this tool.
It's really easy to pick practically any niche and find profitable keywords in them.  The key is to look for low competition of under 30 and a monthly search volume ideally over 1000 but if it's a strong buying intent keyword than even 100 can be extremely profitable.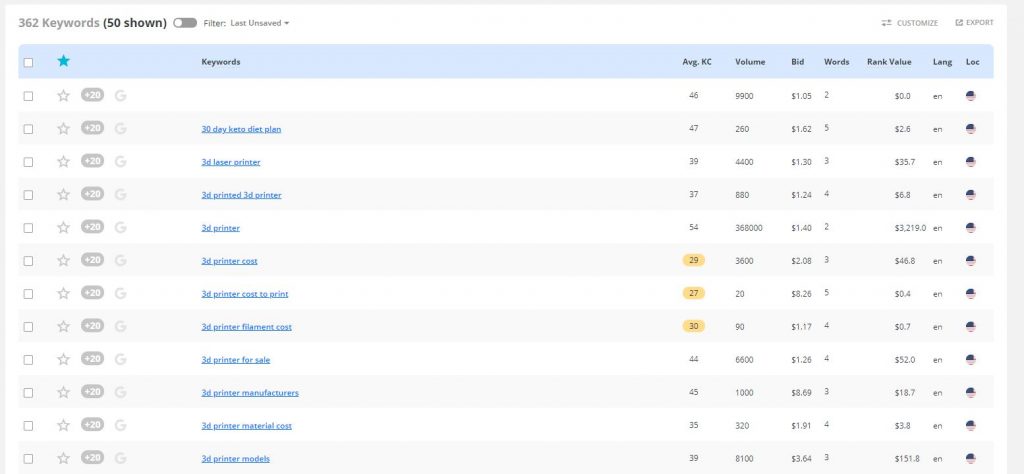 Unless you have a strong website, I recommend staying under a Keyword Competitiveness(KC) of 35.  If you click on the Avg. KC column, it will sort the results by competitiveness so that you can find the low-hanging fruit even easier.
What is KC?  KC is a measure of the keyword difficulty and it gives you an idea of the authority or relevancy your site will require to rank on the first page.
Ideally you'll want to stay under a KC of 30 if your site doesn't have a strong authority yet.  A KC of 30-35 is possible with some link building to strengthen your site's backlink profile.  I generally don't recommend forcing backlinks as they rarely appear natural and they can actually end up hurting your site's growth.  Stick to writing content around good long tail keywords and the relevancy and backlinks will grow on their own.
Without further ado, let's look at some real results I have done recently.
I did some searches on scuba keywords a few days ago.  Scuba gear can get expensive fast but as an affiliate you stand to make some decent money.  It is not uncommon to get $100-200 kickback on just one sale.
Look at some of the results I found:

These are all low competition so under a 30 KC.    Terms like "best scuba masks" and "best scuba gear packages" in this range are amazing.
On a scuba gear package it could net you easily $100 a day so you could clear $3000 a month from this term and writing some additional content tightly around scuba gear.
3d printers are another great topic because frequently there is a good affiliate payout from it.

This keyword has it all.  2900 searches a month, a KC of 26, and it's a buying intent keyword.  A person is actually searching for how much a 3d printer costs which means they are very close to buying.
For this all you'd have to do is create some content around comparing a bunch of 3d printers and put in affiliate links.  Even better, collect emails so that you can follow-up with 3d printer articles and perhaps a new sale that comes every so often.
These are just a few of the many examples that you can expect to be able to find in no time flat with your Long Tail Pro purchase.
Walkthrough – Find New Niche Keywords
Sometimes the best way to see a keyword tool is to do the actual keyword research process.  And that's what we're going to do here.
From a topic to finding real keywords to use, we're going to do it all right here in Longtail Pro.
Let's create a new project for this, we'll call it Tutorial.
All you have to do is click on the plus icon next to Default and then give a name to your new project.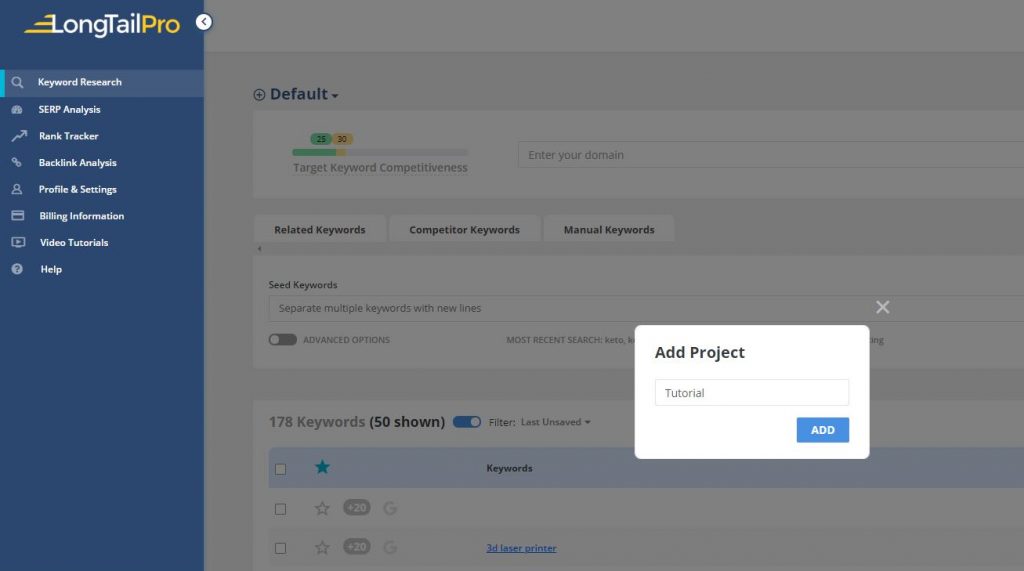 Now we have a shiny new project called Tutorial.
For this example, we'll take a common keyword "keto" and try to find some long tail keywords that a new site could use to rank for some extremely profitable traffic.
So we have a keyword "keto" to start with.  Let's throw in some other keto-related keywords and see what we get.  Let's add keto, keto reviews, healthy snacks, keto diet, and easy meals as our first seed keywords.

We have some real results now.  Clicking on Avg. KC to sort them ascending we can see the easiest ones on the list.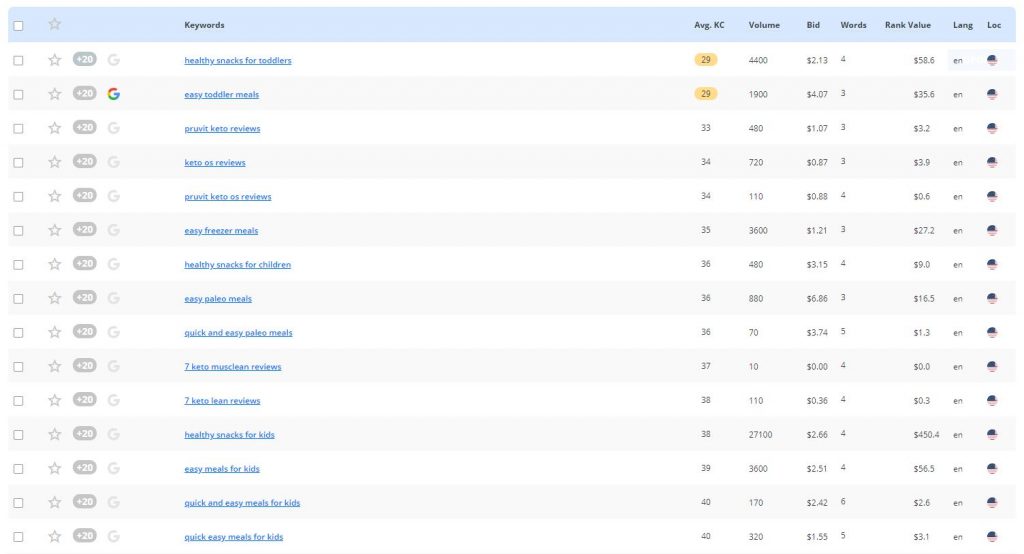 There are some potentials but the best bet is to stay under a KC of 30 unless your site is a heavy hitter.
While there are a couple "healthy snacks for toddler" and "easy toddler meals" under 30 with thousands of searches a month, those aren't the keto topic we are aiming for.  Still a good thing to write down those two keywords to look into later for another project perhaps.
Let's expand out on a few potential terms to look for some similar terms.  Just click on the +20 button to the left of a term to add more related searches using that term as another seed keyword.
Let's scroll down to find a couple in the 40-50 KC range but lots of volume to see if we can find some less competitive keyword underneath of those.

Let's click on the +20 button next to "keto meals", "keto diet food list", and "easy keto diet plan".  Those all have a good number of monthly search volume and should gives us some better low-competition results.
The keywords are turning out really nice for this one.  Let's look at the results of keywords under a KC of 30.

Look at this list we now have on keto diets:
| | | |
| --- | --- | --- |
| Keyword | Keyword Competition (KC) | Volume per month |
| printable keto diet food list | 24 | 390 |
| keto diet food list printable | 24 | 390 |
| keto diet food list pdf | 24 | 880 |
| cheap keto meals | 29 | 3600 |
Now that we have some very good potential keywords ripe for the taking, it's time to look at the actual results and see if we are likely to place on the first page.
Let's go right for the 3600 searches per month term, cheap keto meals.
By clicking on the term, it brings up a keyword detail window that shows lots of information about the top 10 results.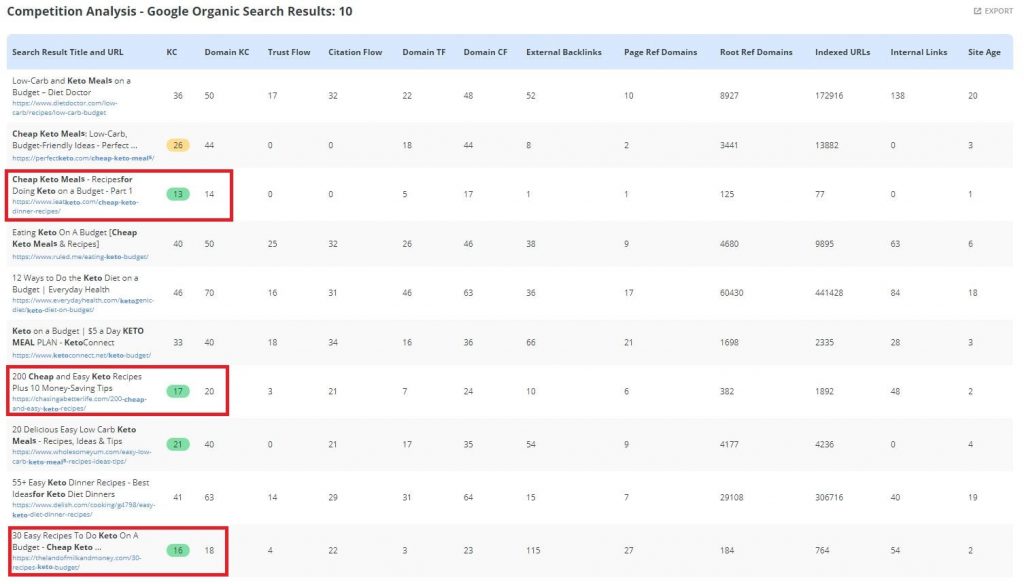 Generally the weaker results have a KC and Domain KC both under 30.  In this case, 3 of the entries are under 30 which means it is possible to rank in the top 10 with very high quality content with a catchy title.  It's no walk in the park but this is a keyword with a ton of traffic with fairly low competition.
Just for kicks I added 20 related seed keywords (the +20 button) on quick and easy keto meals as it has a 31 KC and 720 monthly search volume.
I found 2 more gems

| | | |
| --- | --- | --- |
| Keyword | Keyword Competition (KC) | Volume per month |
| quick keto dessert | 26 | 2400 |
| keto freezer meals | 28 | 1300 |
Quick keto desert is even better than the initial keywords.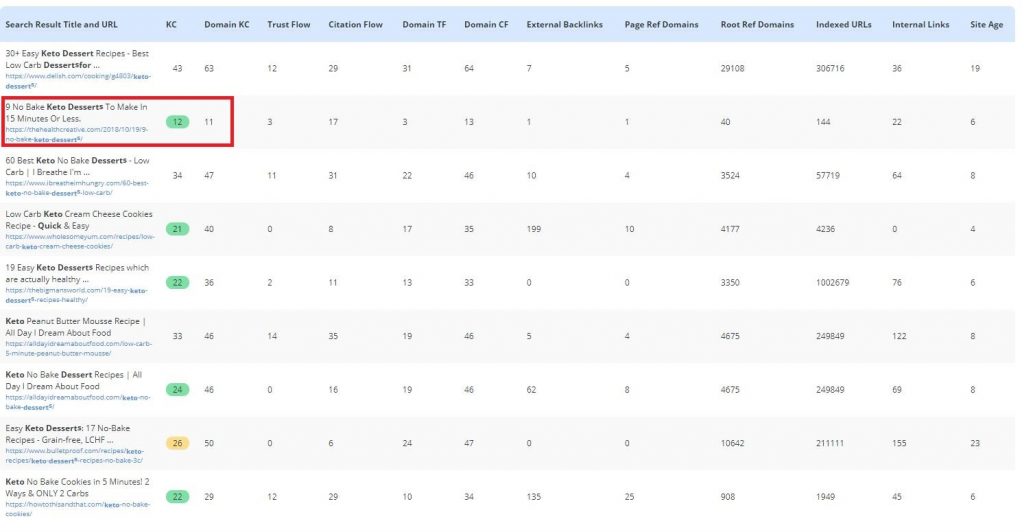 You have the #2 result is a site with KC of 12 and Domain KC of 11 and next to no backlinks.  It does have a little site age of 6 years, but this is a keyword you could also topple with a little work.

Here is yet another even better result.  With a KC of 28 and a monthly search volume of 9,900 searches a month, this one is ripe for the picking and could be a couple hundred visitors a day easy.
In fact, here is the #1 result in Google for it:

The #1 result is a site 1 year old with a KC of 17 and a domain KC of 18.  It has 145 indexed urls so likely around 40-50 pages total.  Virtually no backlinks even.  This is a gold mine of a search result.  Took 5 minutes if that.
It's easy to find gold with Long Tail Pro.
There are some things to remember here.  For one, many of these sites have many pages so in all likelihood you won't be able to make one single page that will just up to the top of page 1.
Google looks at your site overall in addition to the page, so you'll want to create many of pages like these and also pages and support these in order to have Google recognize you as an authority.  Google likes E-A-T (expertise, authority, and trustworthiness) in order to rank you higher.  Create many of these pages and you will succeed.
Moz has a good writeup on E-A-T.  It's all about authority and relevancy.  So in addition to finding these amazing keywords, if you follow-up with amazing content, you have a huge winner and Google will award you with lots of traffic.
And when you're talking getting diet plan traffic, the money just rolls in.  To tell you the truth, after researching this keyword for this article and seeing even more keywords with over 8000 searches with little competition it's really tempting to build a keto diet site.  It's all in picking the right keywords.
Why Go After Low Competition Keywords With Low Volume?
If you're a newer site and you haven't really established much authority or reams of content yet, you likely have the age-old problem of not having many visitors come to your site.
"I write lots of content, but people are just not showing up.  I can swear I hear actual crickets chirping!"
If you've said something even remotely close to the above, then you are 150% in the right place.  This is something that can be fixed with the right methods but let me take a sec to show you why things are the way they are.
Once you understand the real problem, then the issue becomes clear.
Google has lots of sites it knows about both new and established.  The established ones get the site authority because they written reams of content.  They're safe and predictable.
New sites … Google just doesn't know yet.
Imagine that you get to see only one more concert in your lifetime.  You can either choose the Rolling Stones whose music you know, or a little pub band that few poeple have ever heard of.  Which would you choose?
Likewise, Google is trying to pick the best answer for a searcher's question, and until you establish your authority, you won't beat out the big guys.  And that can take years.
So you won't rank for "keto diet" anytime soon.  Like really far off in the future.
So where do you get your organic traffic from?
You look for low competition keywords with low volume.  These are sometimes called niche keywords or long tail keywords.
If "keto diet" is a head keyword, then "keto freezer meals" would be considered long tail keyword since it has a low competition (Keyword Competitiveness of 28) and a monthly search volume of 1300.
I'm not saying there isn't competition and that it's a walk in the park with these niche keywords but you're not competing against places like webmd that are powerhouses. If you search for keto freezer meals you'll see these are smaller sites which is proof that these sites creating more focused content on this keyword/topic are winning on this niche keyword.
Google rolled out the BERT update at the end of 2019 and it is really taking effect in 2020.  Lots of experts blog like SearchEngineJournal.com have weighed in on how SEO and content creation needs to completely change now.  The short story is that relevancy has become more important in many instances than the site that has the content.  These long tail keywords smaller lesser-known sites can snag some traffic with high-quality content and get the ball rolling and start those visitors coming in.  If you are a smaller site, this is amazing news because it levels the playing field quite a bit.
Also remember it's not always just this one particular piece of content, but create more related content and interlink them.  Create a powerhouse by taking over a niche topic.  Google prefers a site with 10 articles around a niche topic then 1 and you can use this to your advantage.
We're entering the time now when better content is rising to the top because it's better, not because of who has it necessarily.  Since January 2020 it's changed and it's only going this way of semantic searching even further.
What is Keyword Competitiveness (KC)?
Now that you've seen a little of doing real keyword research with Long Tail Pro, the next question is normally what exactly is KC?
Keyword Competitiveness is a calculation of how difficult it is to rank on page 1 on Google for a given search term.  It takes into account page authority, domain authority, backlinks, and much more.
When you see a KC on a search term in Long Tail Pro results, it is an average of the top 10 KC search results for that term.  Bringing up the actual results like above shows you where you could possibly place on the first page.
Generally speaking when you are looking at KC, this is a guide to whether your site can rank on the first page: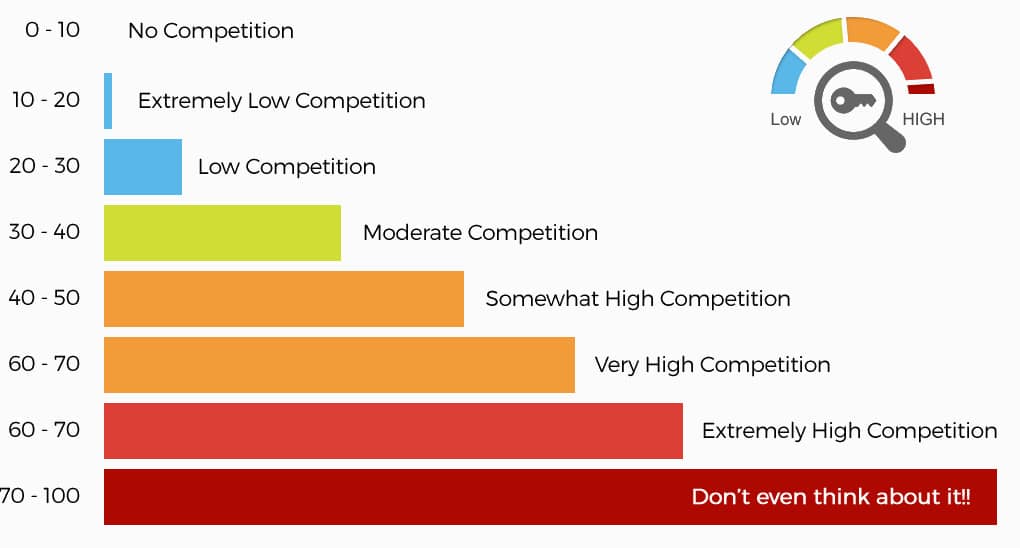 If you are on the newer side, you'll want to stay under 30 even with very high quality content.
What are the best features of Long Tail Pro?
The Keyword Analysis is by far the best feature, as well as the most developed feature in this long-standing software.
It's not so much for finding new keywords to write about.
It's about already having a good keyword idea, and finding low competition, high-volume keywords very close to my target keyword.
You know, the ones like free this or best that.  There's always new combinations so those low-hanging fruit are easy to pick up and run with.
I love that Long Tail Pro gives much more reliable data compared to the Google Keyword Planner.  And that's saying a lot.
Long Tail Pro Pricing
The Long Tail Pro Refund Policy is a 100% Satisfaction, 10-day moneyback guarantee.  This is a no-questions-asked guarantee so there really is no risk to trying it out.
Long Tail Pro has 3 membership levels.  The difference between the plans is how much usage you are allowed before hitting your limit.
Keyword Research – 100 keyword lookups, KC calculations, and SERP lookups per 24 hours
Usage of the system for 7 days to try it out and see for yourself.  For only $1 how can you go wrong?  There is actually a cancel button right in the billing section so you can cancel it yourself without having to call or talk to anybody at the company.
LTP Starter Plan– $37 per month
Keyword Research – 800 keyword lookups, KC calculations, and SERP lookups per 24 hours
Rank Tracking for 30 Keywords
Keyword Research – 2,500 keyword lookups, KC calculations, and SERP lookups per 24 hours
Rank Tracking for 200 Keywords
As you'd expect, paying ahead annually drops the effective monthly price quite a bit.
Long Tail Pro vs Competition
As you'd expect, there are many competitors in the keyword research software arena.
Long Tail Pro vs Ahrefs
Ahrefs is probably one of the most well-known.  Ahrefs has some very advanced capabilities that are very polished, but you pay out the nose for it too.
Ahrefs starts at $99/month and goes up to $399/month.
If Long Tail Pro does what you need, I highly suggest going with it and saving the money for when you need when LTP can't provide you.
Long Tail Pro vs KWFinder
KWFinder is a fine keyword research program that has some aspects polished in respect to LTP, but it does not have the ability to do competition website analysis and competitor keyword analysis in quite the same way that Long Tail Pro is capable of.
I wrote an entire post on Long Tail Pro vs KWFinder and it may help with more details on what features they have in common, etc, to help you decide which is best for you.
Long Tail Pro vs SEMrush
SEMrush is a big player in the SEO tools market.  They are what I would call a all-in-one SEO tool in that it does much more than a keyword research tool.  SEMrush gives you amazing insight into a competitors website traffic sources (pretty close to Ahrefs level I would say) and backlinks.  It has technical SEO audit tools to help you find ways to improve your site.
SEMrush starts out at $99/month.  They do have a free trial which is a great way to take a peek at it.
If you're focusing on long tail keywords, I would choose Long Tail Pro any day of the week for both the cost savings but also because LTP just excels in long tail keywords because that is their focus.  If you're advanced and looking for more analysis into keywords and organic/paid traffic and such, you likely aren't fighting for smaller keywords.  At that point that you are far more established with more authority than maybe SEMrush would be better for you.
I have written an entire comparison post of Long Tail Pro vs SEMrush right here on the blog if you'd like to read more.
Long Tail Pro vs Market Samurai
Market Samurai is another big competitor to Long Tail Pro.  In many ways these pieces of software are rather similar but LTP has been refined a bit:
LTP allows you to input multiple seed keywords at once instead of one with Market Samurai
LTP has quicker keyword filtering which helps you get to the goal quicker
While they provide very similar results, Long Tail Pro shows you the Moz data.  Moz data is the DA and PA scores and while Google does their own thing, the Moz data gives you another data point to help with your analysis.
LTP is cloud-based (you use it on the website) and Market Samurai is a tool you download and run on your computer.    Personally I like being able to bring up and do some checking on the LTP website on my phone while out if I think of something instead of waiting until I get home.
Market Samurai is $149 up front but it's a one time cost
Long Tail Pro Review – Final Thoughts
I hope I've given you a very good idea of what you can expect with Long Tail Pro in this product review.  I use it quite often in combination with many other tools and the results are amazing.
As you can see and no doubt are aware, Long Tail Pro makes it easy to find high-volume low competition keywords and saves you a lot of time.  If you're in this for profit, then this is a cornerstone of the work you are doing and the absolute most important step.
If you're not an authority in your niche, you'll need to target lower competition keywords, known as long tail keywords.  SEMRush has a great writeup of what a long tail keyword is and why you want to find your own gems.  I've also done a writeup right here on ThinkBigReview of long tail keywords as well.
Long Tail Pro is without a doubt the in the top tier of keyword research tools and the best price for what you get.
It's easy to use and there are even dozens of tutorials on Youtube that give you every way to squeeze the most use out of this tool.  You'll notice quickly that this tool is an absolutely necessary part of doing affiliate marketing online.
Add to that a 100% satisfaction, 30-day guarantee and there really is no reason not to try this very reasonably-priced software today!
Get your copy of Long Tail Pro today.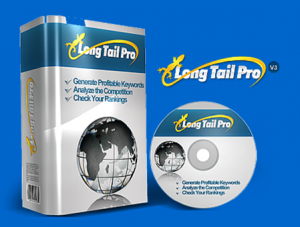 Affiliate Disclaimer: I hope you have enjoyed this Long Tail Pro review.  Please note that any links inside this article may be affiliate links.  That means that if you sign up using one of the links, I may be compensated for this.  The money we make helps keep this site up and running and creating high-quality reviews.